Let the Right One In is a Fine, Fine Film
"Fine, fine" in this instance, & only this instance, means "very good despite the terrible, cloying, awful sentimental music."
You've probably seen this movie already, which means you probably have already sat through & forgiven the awful, awful music. The most obviously appealing thing about this film is the willingness to leave questions unanswered. Whereas a Hollywood film about vampires would feel the need to explain how old the vampire is & how every aspect of vampirism happens, its enough for this film to mention flying in passing & to give occasional sneak peaks into the vampire's existence. What I think is additionally appealing is that the film extends this openness to the protagonist's life, establishing a creepy friend to his dad without defining who he is, having the mother present but undefined. The film seems to carve its own moment into a potentially full experience.
For the most part it's not even too gothy a film, which is sort of amazing, considering vampires are the hottest goths around.
Well, sometimes it's gothy:
But what the film is really about is the focus pulls & the depth of field. The shallow depth of field in the movie creates a hallucinatory intimacy. The whole film skews itself outside of the normative looking experience, twisting our attention from fingertip to palm & oftentimes keeping the focus somewhere near the middle of the perspective field.
I couldn't find the best examples of this online, but that is all right since it's more about the movement of the focus than the stills.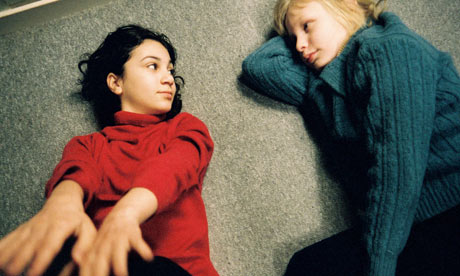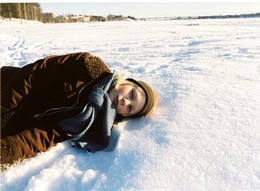 The best comparison I have, though it is through dramatically different cinematic techniques, is to Van Sant's Elephant. The first time I saw that film in theaters, following a character for 5 minutes through the hallways of his school only to (spoiler alert) watch him get shot, I was deeply, deeply affected. Upon subsequent viewings I decided that the unmediated attention made the kid real to me. Much like how an audience member at a play can genuinely drop the lead actor with a well-thrown baseball, the consistent attention to the kids in that film made me believe in them in a way few films (Tarkovsky's Nostalchia, is one) can.
What Let the Right One In did for me was to embody the camera's eye & presence. Much like the wandering eye of Children of Men & Come & See, the camera places me as a viewer, but not as rudely as in those film. The focus pulls are subtle & intimate & make each voyeuristic moment not only a moment of a gaze but also an assessment.
But man alive, that music sucked.