Truth In Spicer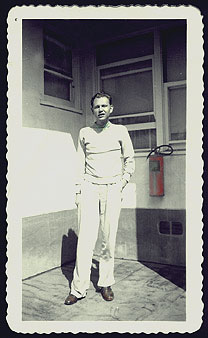 I was attempting to construct a meaning by empirical statements, by imagist statements...

I had in mind specifically the meaning to the mathematician -- a series of empirically true terms.

--George Oppen on Objectivist poetics
I've been thinking about this somewhat famous quote a lot today. When I first thought about it closely a couple of years back I found it silly, the empiricism seemed like a metaphor & therefore irrelevantly, even fatuously phrased as empirical.
But lately I've had the feeling of truth in reading poems. Not a truth of subject or the "emotional truth" that is more often a reinterpretation of experiential cliches, but the feeling that what has been said has been said correctly. I get this feeling from Spicer a lot, especially A Textbook of Poetry. Check it:
If you see him everywhere or exactly nowhere, he becomes as it were the circumference of a circle that has no point but the boundary of your desire. Coming to a point.

And the human witness of this passion is rightly stunned by the incongruity of it. Lifting a human being into a metaphor.

All that we do in bed, or sleep, or sex is limited by this circle which can only be personally defined.

On the outside of it is what everybody talks about. On the outside of it are the dead that try to talk.

Once you try to embrace an absolute geometric circle the naked loss stays with you like a picture echoing.
It's an old-school metaphysical move to equate the erotic with the poetic, one that predicates pretty much everything of Spicer's in my opinion. But rather than the density, the contorted heaviness of the 17th Century model for metaphysical complexity, one picked up by Pound & reframed by, well... almost everyone working in a cerebral mode of experimentation from Oppen to Hejinian to Ben Lehrner, Spicer is working in a Keatsian space of lightness. Not in the images, which are cold & ostensibly cerebral, but in the sentences.
Julie Doxsee described that first sentence of this section as having no gravity & I see what she means. I was at the Rodin this past weekend & I felt like those huge statues of bronze, those busts of marble would essentially float in my hands if i were to touch them.
It is the tone & syntax of A Textbook that makes Spicer's statements take on the feeling of truth to me. The awkward freshborn newness of his sentences offset against the complexity of his sentiments. The genuine desire to attempt to say what he means & the ineffability of his subject mattter evading him like the edge of an expanding universe.